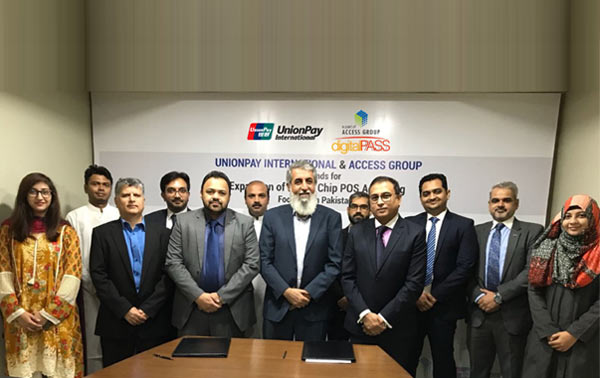 Karachi: UnionPay International (UPI) and Access Group have signed an agreement for the expansion of POS acquiring network for UnionPay Contactless & Chip Cards utilizing one of Pakistan's largest third-party POS terminal network, DigitalPass.
With its vision of making digital payments more accessible to people across boundaries, UPI has been leading initiatives across international markets for acceptance of its payment instruments. As an initiative to expand its footprint for NFC & Chip card based payments across Pakistan, UPI is partnering with one of the leading technology & financial services providers in Pakistan – Access Group.
As a result of this arrangement, Access Group will enable acceptance of payments by UnionPay cardholders across its payments network, DigitalPass. DigitalPass is Pakistan's largest third-party POS network for enabling digital payments at retail and other forecourts including fuel stations, hospitals, grocery, departmental stores, restaurants and transportation, with currently more than 8,000 serviced merchant relationships.
According to Mr. Han Wang, General Manager of UnionPay International Middle East, UnionPay International is committed to making digital payment options accessible to all UnionPay cardholders. This partnership serves as an important milestone towards launching UnionPay innovative payment methods such as UnionPay QuickPass, UnionPay's contactless feature, in Pakistan.
"Access Group is keen towards paving a way for widely accessible digital payment options for people across the country, while also opening up possibilities for people from international communities to access digital payments," said Mr. Imran Qureshi, President – Access Group.
To date, UnionPay is already accepted at almost all POS terminals in Pakistan. This partnership will provide UnionPay International the opportunity to introduce innovative payment methods in the future and scale up retail payments throughout the country.