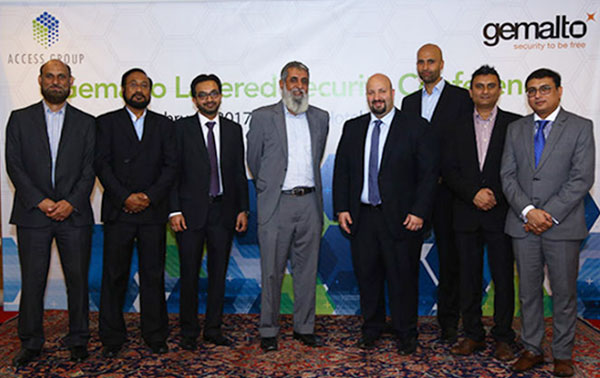 Karachi, February 28, 2017: Access Group has entered into a strategic partnership with international digital security provider Gemalto to introduce world's latest cyber security solutions in Pakistan. This was announced at the 'Gemalto Layered Security Conference' held yesterday in Karachi.
"With the addition of Gemalto as a strategic partner, Access Group now has the capability of offering end-to-end IT security solutions including securing ATM transactions, bank digital money transfers, identity keys and user devices complemented with its extensive support infrastructure." said Imran Qureshi, President of Access Group.
Speaking at the conference, Gemalto's Regional Sales Manager for UAE, Pakistan and Iran, Rami Dawoodi talked about Gemalto's layered security from the core to the edge that aims to establish cyber resilience in view of the rising concern about banks' data security. Rami said, "Digital security is a growing global concern, but it has created particular anxiety in Asia last year with attacks in Bangladesh, the Philippines, Taiwan, Thailand and Vietnam."
Gemalto's Channel Manager for MEA and Pakistan, Aamer Chaudhari further discussed Gemalto's advanced security solutions that will secure banks' internal highly sensitive data and enable them to function without any setback, through SafeNet Authentication Service, Encryption Connectors and KeySecure.
The conference proceeded with overview and demonstration of the technical products, which Gemalto & Access Group envision as the future of digital security for Pakistani enterprises, across all verticals.
Access Group is a trusted premier technology solution provider of innovative and diversified products in Pakistan since 1994. It provides state-of-the-art technology solutions to a vast array of businesses, enabling them to offer a host of resourceful and innovative services to their customers through strategic partnerships with global brands such as Fundamo (a VISA Company), TPS, VeriFone, and iDirect. Additionally, Access Group owns and operates the country's largest third party digital transaction processing network – DigitalPass, which has presence in over 200 towns and cities across Pakistan.
Gemalto is an international digital security company and has a 30-year track record of serving the banking industry. It delivers easy to use technologies and services to businesses and governments, authenticating identities and protecting data so they stay safe and enable services in personal devices, connected objects, the cloud and in between.
Today, the world's largest banks rely on Gemalto solutions to secure intra-bank transfers, ATM transactions, digital identity keys, millions of user devices, and much more.