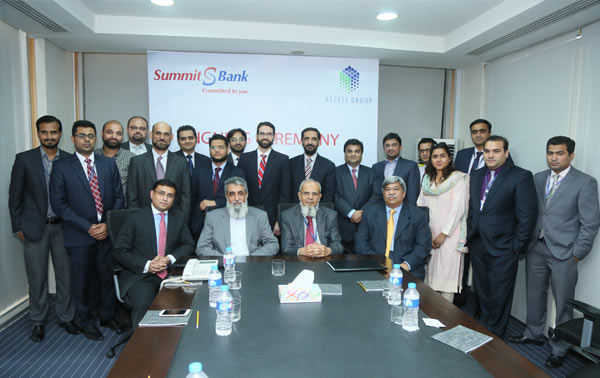 Karachi, 24th August 2016: Summit Bank and Access Group have signed an agreement for Summit Dolmen Loyalty Program.
The Summit Dolmen Loyalty Program is a unique initiative which awards redeemable points to loyal customers on shopping and paying through the Summit Dolmen Loyalty Card. Through this partnership, the reach of this program has expanded to more than 180 outlets and will soon grow to cover 300 outlets. The program also enables card holders to avail multiple exciting discounts on brand partner outlets.
Summit Dolmen Loyalty program is the first arrangement of its kind that allows customers to earn points, redeem them and avail exciting discounts at retail outlets located at Dolmen Malls across Karachi. We strongly believe in providing innovative value addition to our customers, said Mohammad Zahir Esmail, President & CEO, Summit Bank. Access Group extensive network of brand partners with POS Network and Support has led us to take this program a step forward, he further added.
Access Group is pleased to extend its loyalty solutions expertise along with its retail network support to Summit Bank for the growth of the Summit Dolmen Loyalty Program. The program is in line with Access Group vision of providing unprecedented service and value-addition to its clients as well as their customers, said Imran Qureshi, President, Access Group, on the occasion of the signing ceremony.
This partnership opens up new possibilities for synergy and innovation which allow Pakistani consumers to experience latest trends in technology with value-added benefits.
About Summit Bank:
Summit Bank is one of the fastest growing commercial banks of Pakistan.With a vast network of branches across Pakistan and an experienced IT backed infrastructure, Summit Bank is committed to providing innovative products and superior service to its customers. Summit Bank aims to aggressively grow its existing product portfolio by introducing a variety of services for deposits, consumer loans, credit cards, insurance and asset management through a customer-focused and competitive approach while closely following technological developments.
About Access Group:
Access Group is amongst Pakistan leading technology solutions provider, with offerings including enterprise grade platforms, branchless banking solutions, enterprise loyalty solutions and payment acceptance at various forecourts. Over the years, Access Group has built up one of the largest nationwide support network for servicing its customers spanning over 200 cities, towns and villages across Pakistan. With the recent acquisition of ORIX Leasing Pakistan e-Business related assets including POS Network and Terminals, Access Group is now Pakistan largest third party transaction processing network which processes transactions worth PKR 7.37 billion every month.