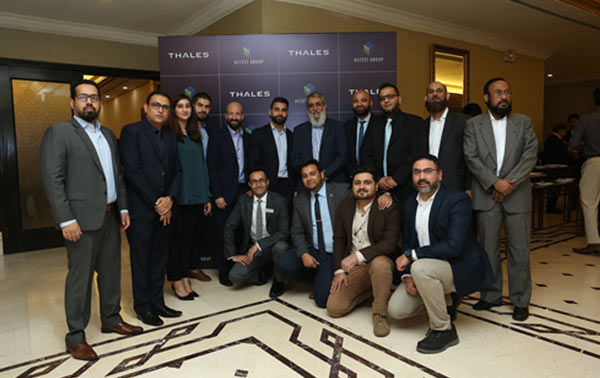 Access Group joined with its Global Partner – Thales for "Two Become One: a New Leader in Data Protection" Conference in Karachi, Movenpick Hotel on 20th November 2019. The conference brought together cross-industry cyber and information security sector leaders to discuss current and future projects that address the key cyber security trends and issues in business and explore the latest strategies to protect critical data with Thales and Access Group team.
There were keynote speeches by Rami Dawoodi – Regional Sales Manager, Thales, Syed Asif Shah – CIO, Central Depository Company (CDC) Pakistan and Erol Dogan – Pre-Sales Manager, Thales followed by an intriguing panel session on the changing security landscape.
Rami Dawoodi (Regional Sales Manager, Thales) talked about how Thales acquired Gemalto to become a global leader and how this technological synergy is now covering an entire critical decision chain with capabilities spanning software development, data processing, real-time decision support, connectivity and end-to-end network management.
He along with Erol Dogan (Pre-Sales Manager, Thales) further addressed enterprises' rising data protection concerns with Thales's data protection and key management offerings that would enable banks, financial institutions, insurance and other enterprises to build a zero trust infrastructure while ensuring compliance.
Syed Asif Shah (CIO, Central Depository Company (CDC) Pakistan) outlined the cybersecurity challenges and shared the journey and experience of upgrading the system with Access Group through augment authentication with multiple use cases by Thales.
The conference concluded with changing security landscape panel, moderated by Asif Riaz of Digital Arrays and panellists were CISOs, CIOs, CTOs from K-Electric,  ISACA, HBL, Meezan Bank, Telenor Microfinance Bank, Askari Bank and Habib Metropolitan Bank. It was an impactful and most engaging panel that discussed ways to identify, locate and protect critical data enterprise-wide, build a resilient cybersecurity Infrastructure and achieve compliance.
The turnout to this event was overwhelming and the level of engagement and enthusiasm from the attendees was on the rise. We were honored to provide this opportunity for the local industry to learn from global data protection professionals and network with businesses, government officials, and executives and contribute to strengthening the cyber secure ecosystem.