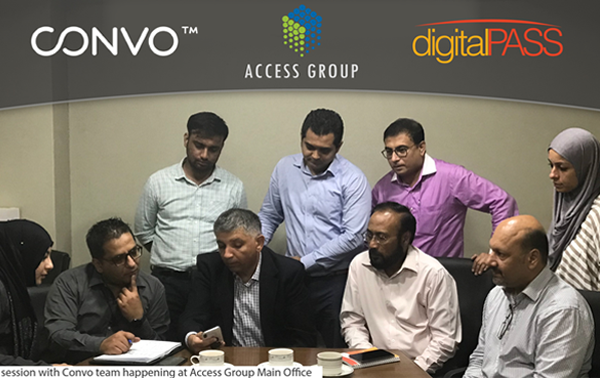 Access Group has entered into a strategic partnership with Convo to bring world's leading enterprise collaboration suite for businesses to Pakistan.
Convo addresses modern-day communication needs of businesses with innovative technologies directly from Silicon Valley. The high tech platform revolutionizes the way businesses interact altogether – resulting in greater productivity without compromising on organizational privacy and data security.
Convo is used by some of the best brands in the world such as H&M and CNBC for a mission critical solution. Since its launch, Convo has been adding new features to ensure a centralized, effortless and instant team communication and better business control.
The partnership envisions to deliver rich collaboration experience to businesses by giving the power to communicate with ease in the hands of all employees and streamline operations on the go!
"In a time where individuals are exposed to the growing trend of connected devices, Access Group is excited to introduce a globally renowned enterprise collaboration technology that will help businesses in Pakistan to cut costs and become more efficient" Imran Qureshi, President – Access Group.
"We are really excited to work with one of the leading technology companies in Pakistan", said Osman Rashid, CEO Convo. "By working with Access Group, we believe we can deliver a top-notch collaboration platform to many companies in Pakistan with deep integration with existing IT systems."
Access Group, being one of the leading technology companies in Pakistan; has been dedicated to offer advanced digital solutions to vast array of businesses and has played a significant role in partnering with global technology players along the journey to bring cutting-edge solutions in Pakistan.
Through this collaboration, businesses in Pakistan will benefit from the power of the Convo platform and Access Group's expertise in local implementation and support.