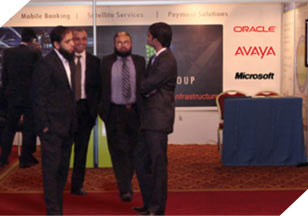 Faysal Bank, one of the Pakistan's leading commercial bank, started its operations in Pakistan in 1987, first as a branch set-up of Faysal Islamic Bank of Bahrain and then in1995 as a locally incorporated Pakistani bank under the present name of Faysal Bank Limited. The bank in its 20 years has remained a sound and growing entity which is reflected through its entity rating of AA for the long to medium term and A1+ for the short term assigned to it by both leading rating agencies of the country, namely JCR-VIS and PACRA. Having such magnitude of repute in the market, the management of Faysal Bank not only understands the value of customer satisfaction but also strives to provide the wow experience.
Keeping the customer services at its core, the bank decided to implement the best customer management solution in the market place today.
Access Group being the most reliable Information technology consultant all over Pakistan provided Faysal Bank, with the state of the art industry leading ORACLE SIEBEL CRM solution. Access group with its team of highly qualified consultants has completed the project by customizing the solution as per the business requirements of the customer. The Solution gives a 360 degree view of the organization, by integrating all departments and provides necessary tools to perform activities faster ; rather it makes the work proactive. SIEBLE CRM Solution comprises of different modules such as Sales force automation, Loan Origination, collection & Contact Center Solution. However Only the Contact Center Solution has been implemented and made live on the Faysal Bank's ongoing systems.
Siebel Contact Center and Service applications help Faysal Bank to deliver intelligent customer service that stands out in a crowded marketplace. The application module will brace the service agents to prove "one-and-done" services request handling, resolve issues faster, seamlessly transfer services request to field engineers and deliver an exceptional customer experience, Siebel Contact Center manages all inbound customer interactions, routes calls to agents with the right skills and availability, and drives end-to-end service request management. It allows agents to deliver fast, consistent support with dynamic call scripting that intelligently guides interactions.
The Solution offered to Faysal Bank will not only help the bank to maintain an enhanced feedback mechanism on its customer but will also augment the customer base of the bank as now the bank has the capacity to entertain greater number of customers in the same time and same place using the new CRM solution.