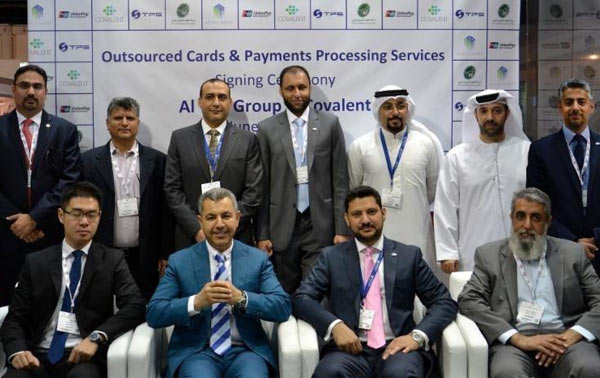 On the side lines of the biggest payments events of the region, Cards & Payments Middle East in Dubai, Al Taif Money Transfer Co (TMT), a subsidiary of Al Taif Group Iraq signed up Covalent (supported by UnionPay International – Al Taif Official Payroll Payment Card Solution), a Joint Venture of TPS and Access Group for powering up their entire Cards & Payments Infrastructure. As part of the deal, Covalent will setup an extensive outsourced white labeled digital payments platform that will serve TMT customers that is both flexible, scalable yet future safe. This ideally positions Covalent as a regional cards and payments processor and with its white labeled digital payments platform any potential Covalent customer can easily and quickly deliver services to a wide variety of customers almost anywhere in the world. Covalent extensive suite of services covers everything from payment instruments i.e. Debit, Prepaid Cards, to their forms i.e. EMV, Magstripe, NFC, to an extensive array of acquiring options i.e. ATMs, POS, mPOS, Payment Gateway, to an elaborate back end services suite with options like merchant management, bill payments, standing instructions, fraud and risk management to name a few.
This deal follows a number of contract wins for Covalent, with the business recently announcing deals with Bank AL Habib, Soneri Bank and Standard Chartered Bank Pakistan spurring a silent revolution in the industry and greater acceptability and trust on the managed services spectrum.
With Covalent at our side, we are at ease as we know they will deliver on time and with the quality that is the hall mark of both Access Group and TPS said CEO AL Taif Group. Our group takes pride in being the trend setter in Iraq and the region. Tasking Covalent with setting up our extensive electronic banking infrastructure speaks volumes about our trust in Covalent. And we strongly believe that it is the best blend of technology and expertise that we can get here in the Middle East.
Everyone at Covalent is excited to be part of this project and we really hope to be able to meet the ambitious plans and expectations of Al Taif said Imran Qureshi, CEO Covalent. Our dedicated product development and project management teams are working closely with Al Taif on a day to day basis to deliver a white labeled digital payments platform that is technologically superior yet highly flexible and robust at the same time."
Shahzad Shahid, Director at Covalent and CEO of TPS, added: We are pleased to have won the trust of Al Taif Group and it serves to highlight our ability to deliver effective cards and payments processing services globally. We have ambitious plans over the coming years as we look to further expand our cards and payments services into international markets.