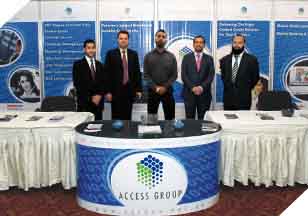 Access Group's valued client United Bank Limited (UBL) is known amongst three of the leading commercial banks, having a countrywide and international branch network. UBL has full service license covering commercial, retail banking, consumer and investment banking activities in Pakistan and most of the other countries where it is present. UBL has an extensive domestic network consisting of 1,370 branches, with coverage in almost every remote location in the country.
With such a vast branch network and rich customer base, UBL required a network solution which is capable of providing connectivity 24×7, in all remote locations where network connectivity is an immense issue.
For this concern Access Group offered UBL the most exclusive and latest technology in the global market called the "IDirect VSAT" satellite connectivity solution. This satellite solution has the capability of integrating and connecting remotely located branches to the central station directly via satellite. This procedure is known to be secure, reliable, efficient and effective while allowing a rapid data transfer.
Initially the contract of 115 branches was given to Access Group, which later on was increased to more than 200 branches, particularly in remote areas where WAN medium was unavailable. Access Group has completed the project of more than a 100 branches successfully on time, fulfilling all commitments of quality service and is working its way for a timely completion for the remaining few branches.