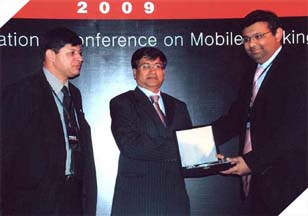 Access Group, a leading IT Solutions Firm, appeared as the main sponsor at the 2nd International Conference on Mobile Banking under the name of Mobile Commerce 2009. The conference was held on 11th March 2009 at the Crystal Ballroom, Marriott Karachi. The event highlighted the importance of Mobile Solutions with regards to banking and ease of mobile usage in association to it.
During the conference Mr. Hannes van Rensburg, CEO of Fundamo a partner concern for Access Group, South Africa, gave a keynote presentation on "Branchless Banking: M-Empowerment approach that benefits all stakeholders". During the presentation he spoke of the importance the safest way to save, have electronic records to access loans, have effective mechanisms to transfer money over distances and offer the best way to learn financial skills.
Adnan Ahmed Ansari, the Head of Business Development, commented, " This Conference is a platform for setting a base for growth within the Information Technology arena that can be sustained from the application of Mobiles in relation to banking. The use of proper technology will support and enhance the infrastructure leading to phenomenal boosts that could be felt in the development and support for this sector".
The event was supported by Access Group in collaboration many others including Nokia Siemens Network, Oracle, Amaana, Avaya MCB Bank and Techlogix.