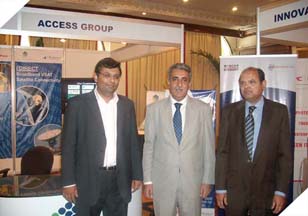 Access Group participated at the 7th International E-Banking Conference and Exhibition based on highlighting the importance of "Smarter" Banking and the benefits that it would offer to its clients. The event was at Pearl Continental Hotel, Ballroom A, Karachi on Thursday, the 23rd of April.
The event began with a welcoming note from Ms. Jehan Ara, President of P@SHA (Pakistan Software Houses Association), after which the key speakers spoke of the concept of E-Banking turning into a reality and the benefits that one gains from them. They discussed the magnitude of implementing different strategies to make this concept a success and the challenges faced during implementation that could be reduced. The importance of applying CRM within the core banking practices was mentioned and Mr. Sajjad Syed, Managing Director, SAP, mentioned that CRM was now an integral part of the banking network and was to be imbedded within the banking framework to make it a further success.
Adnan Ahmed Ansari, Head of Business Development, stated, "The event is a base for discussing and bringing forward revolutionary ideas to support and enhance the growth and sustenance of E-Banking with in Pakistan. E-Banking is a phenomenon that is growing day by day and the arsenal that it requires to be further developed is what we should be gearing up for".
The event was co-sponsored by Access Group in collaboration many others Avanza, Sidat Hyder, Q-Matic and many others.