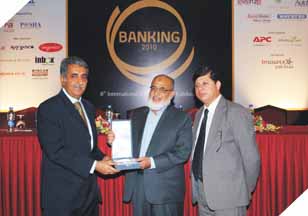 Access Group participated at the 8th International E-Banking Conference and Exhibition based on highlighting the significance of building IT infrastructure in the banking sector. The focus was on "Customer Centric" banking and the benefits that it would offer to its clients. The event was at Pearl Continental Hotel, Ballroom A, Karachi on Thursday, 22nd of April 2010.
Ms. Jehan Ara, President of P@SHA (Pakistan Software Houses Association) gave welcoming note, after which the key speakers spoke about Utilities of E-Payment solutions, Revolutionizing cash management and the data security concerns related to the E-Payment networks. They also discussed about the benefits to the banks by implementing Customer Centric strategies.
The importance of implementing CRM within the banking system was also focused and Mr. Akbar Mughal (Head of E-Banking and CRM Atlas Bank) and Mr. Syed Rizwan Munawar (Head Applications, Oracle Corporation) mentioned that CRM is now an essential part of the banking system and is to be integrated within the banking framework. Mr. Mughal Head of E-Banking and CRM at Atlas bank with his expertise, knowledge and research provided astounding facts and results of implementing CRM in the financial sector and gave example of CRM implemented at Atlas Bank by Access Group and its benefits in terms of efficient banking, operation cost minimization and customer retention.
The event was co-sponsored by Access Group in collaboration with Oracle Corporation and others.