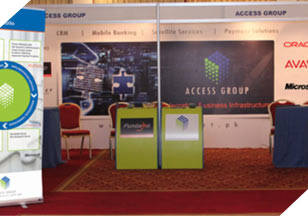 Access Group participated at the 9th International E-Banking Conference and Exhibition held on April 28, 2011 at Pearl Continental Hotel, Karachi, Pakistan. The event, organized by Total Communications and Pakistan Software Export Board (PSEB), highlighted the importance of building an IT infrastructure within banks so as to make banking more "customer centric". In addition, it was emphasized that given the exponential rise in online banking, banks need to be more vigilant and must develop infrastructures that support fraud prevention.
Mr. Kumail A. Morawala, Solution Architect at New Horizon, commenced the conference by presenting on "Cloud Solutions" and discussing how this new technology can revolutionize the way data is stored and handled. Mr. Shahjahan Larik, Regional Sales Manager for Oracle Corporation, Mr. Ayub Butt, CEO of ZRG and Mr. Neil Beckley, Banking Industry Solution Leader for IBM also spoke on the occasion regarding different aspects of electronic, core and transactional banking and cash management. Speakers from both, Pakistan and Europe, apprised the audience of the latest advancement in e-banking and related technologies.
The International E-Banking Conference and Exhibition is counted amongst the most prominent annual events in the region and in 2011, was co-sponsored by Access Group in collaboration with Oracle Corporation and others.