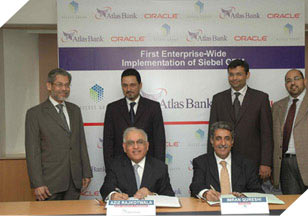 Access Group in coordination with Oracle offered Atlas Bank the SIEBEL CRM Solution for better managing and enhancing their customer relations. Atlas Bank, established by the Shirazi Investments (Pvt.) Limited, is one of the best recognized small banks in the country with an aim to provide a high quality of products and customer services.
The Oracle SIEBEL CRM Solution implemented at Atlas Bank serves as an organization-wide single repository of customer information and all systems running in the bank are being designed to interact with Siebel for all their "customer" related needs and services. The modules, either implemented or under deployment include, Contact Center, Collections, eCustomer, Loan Origination and Sales Force Automation. All modules have been designed and deployed with process work-flows that create interactions within various departments and personnel throughout Pakistan so as to enhance the customer experience and get a better control and audit trail on action performed or not performed within the expected customer service levels defined by the bank. The contact center and branches are now the main customer interaction handling focal points that internally organize the enterprise to serve the needs of the customers. The Siebel CRM solution has been integrated with the Genesys CTI, IRIS and AB2 systems to allow for financial transactions, service requests and complaint handling management and fulfillment.
The under implementation Collections, Loan Origination and SOF modules have been designed to use the entire customer knowledge gathered within Siebel to allow it's users across Pakistan to make informed decisions about the customers and therefore enhance the customer experience whether during a sales cycle or a collections call.
The solution would allow Atlas Bank to offer a one-stop solution for the benefit of its users within the bank and more importantly make customers feel the difference in the service level expectations that they wish banks to offer. This would help the bank in enhancing business agility and provide improved effectiveness and efficiency.