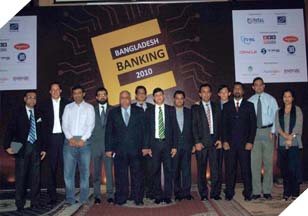 March 2, 2010, Bangladesh E-Banking 2010, the second International Conference & exhibition took place in Dhaka, Bangladesh. This event organized by Total Communications was a very interesting and knowledgeable conference where renowned IT service providers.
Access Group, being one of the leading IT solution providers across Pakistan introduced their Mobile Banking Solution of FUNDAMO, a South African company that has evolved into the market as the world largest specialist mobile financial services provider.
Owais Zaidi (Chief Operating Officer) and Adnan Ansari (Head of Business Development), were in Bangladesh to represent Access Group. Access Group with a reputation within Pakistan also enlightened the Banking and Telecommunication Sectors in Bangladesh. Not only did they appreciate the mobile banking solution that Access Group had to offer, but they praised and showed a lot of interest in what Access Group had to offer.
Now thanks to this and other international IT exhibitions, Access Group has penetrated into the global market as well, showing enthusiasm and commitment in what every task they are to accomplish.